This is a fairly long blog post today. I hope you will find it interesting and that you enjoy my artwork below.
"Mr. Tenniel is the only artist, who has drawn for me, who has resolutely refused to use a model, and declared he no more needed one than I should need a multiplication table to work a mathematical problem! I venture to think that he was mistaken and that for want of a model, he drew several pictures of "Alice" entirely out of proportion - head decidedly too large and feet decidedly too small."
-- From a letter by Lewis Carroll (pseudonym of Charles Lutwidge Dodgson)
Although the stories were written for and inspired by the brunette Alice Liddell, when it came time for Tenniel to create the illustrations, Carroll sent him a photo of blonde Mary Hilton-Badcock as his image of what Alice should look like. Early color illustrations of Alice show a girl with long blonde hair, wearing either a blue dress with a white pinafore, or a yellow dress with a blue and white pinafore.
Therefore, our challenge this month is to create something that is predominantly blue and yellow, the colors associated with Alice! Although it is not required that you use Wonderland in your project, those that do feature Wonderland will receive two chances at the drawing instead of one! Enter by Friday, April 22 at 8 p.m. Eastern Daylight Time (GMT -4:00) and the winner will be posted sometime on Sunday, April 24.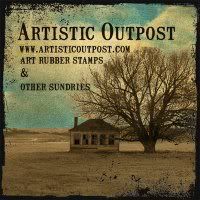 Our April sponsor is
Aritistic Outpost
, makers of fabulous rubber art stamp sets including the Wonderland Collage set that will be featured by our design team. The Artistic Outpost design team will be playing along as well! One lucky winner will receive a $14 gift certificate to the Artistic Outpost store.
This month I am sharing an art form I was recently introduced to. I created my first ATB or Artist Trading Block, (also known as wooden atc or chunky atc). You start with a wood block 2 1/2 by 3 1/2 inches and 1 1/2 inches deep. The rest is up to the artist. Using my stamps from
Artistic Outpost's Wonderland Collage
, I created my atb. The challenge colors are blue and yellow, so I tried to utilize the colors on all sides of the block. The block itself was colored using weathered wood distress stain which has a bluish cast to it. A yellow ribbon encircles the block. Below are more views of the piece.
On one side Alice is helping the white queen with her hair. The image was stamped and then cut with a Spellbinder's die cut label. Behind the label I put a little angelina fiber for added texture. I added one of Tim Holt's Idea-ology hangers for a little fun.
On the reverse I used part of the Alice image and put a faceted fragment over it. I hung one of the metal tassels from the fragment. The sentiment says "If the crown fits..."
The two sides are layered with Graphics45 paper. On side features the white rabbit over a tag which says "I'm late" The other side features the dodo bird and the sentiment "Curiouser and curiouser". the top of the block is covered with small yellow and blue flowers and one larger flower with a clock as its center.
Check the
Altered Alice
blog to see other fabulous pieces of art for this challenge.