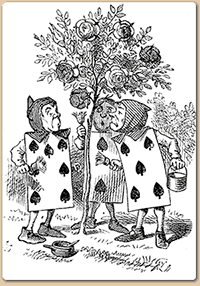 'A large rose-tree stood near the entrance of the garden: the roses growing on it were white, but there were three gardeners at it, busily painting them red. Alice thought this a very curious thing, and she went nearer to watch them, and just as she came up to them she heard one of them say, `Look out now, Five! Don't go splashing paint over me like that!'
-- Chapter 8, Alice's Adventures in Wonderland
The cards were painting the white roses red to avoid angering the Queen of Hearts, so your challenge is to use PAINT on your creation! Of course you can paint it RED like the design team will be doing, but you can also use other colors. You need to tell us what item was painted, what technique you used, and give us a mention and a link of course!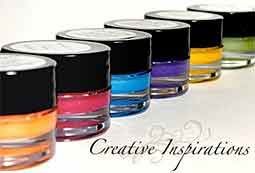 We are sponsored this month by Creative Inspirations [
Store
-
Blog
], makers of wonderful shimmering paint which comes in almost 60 colors, including clear iridescent Fairy Dust. They also carry hot fix Jeweled Inspirations and Metallic Inspirations; I am particularly intrigued by the latter as they look like brilliant nail heads. The Altered Alice design team will be using Garnet paint, a bright sparkling red, and I hope the Creative Inspirations design team might decide to play along! The winner of this month's challenge will receive five colors of their choice.
Be sure to enter by 11:59 p.m. EDT (Eastern Daylight Time, UTC -4:00) on Friday, August 26. The winner and honorable mentions will be announced the last Sunday of the month on August 28.
My first inspiration project is a shadowbox. My images actually come from a set of digital coloring book pages at
hellokids
. It's an image from the Disney movie. I had bookmarked the site for my grandson, since there were a lot of Alice in Wonderland pages. However, this page was so perfect for this challenge. I printed the page on sticky back canvas. I used Creative Inspirations to paint the image (except the sky which I did with Pan Pastels. Canvas is not a requirement to use these paints, it was just something I wanted to try. The roses are white ribbon roses which I painted with the red (garnet) paint. The roses along the side are from Tim Holtz's rose ribbon. These were dyed with fired brick distress stain. Alice was cut from another of the Disney pages. She was colored with Copics. The frame is a shadowbox with the glass removed (violently). I used white and black gesso to distress the wood. the sentiment was computer generated and adhered to the pennant die cut.
My second project came about when I went to purchase the shadowbox for the first project. I saw these chipboard letters and thought that the R would be fun to alter for this challenge. R is for Red and Roses. I painted it with white gesso and edged it with fired brick distress stain. The queen, the painting cards, and the "Off with her head" were stamped and colored. All of the red is Creative Inspirations garnet paint. "Painting the Roses Red" was computer generated. I hope you will join the
Challenge
. Do visit the blog. I think you'll be inspired.