Alice found this box tucked away in her closet. What could be in it?
The Fish-Footman began by producing from under his arm a great letter, nearly as large as himself, and this he handed over to the other, saying, in a solemn tone, `For the Duchess. An invitation from the Queen to play croquet.' The Frog-Footman repeated, in the same solemn tone, only changing the order of the words a little, `From the Queen. An invitation for the Duchess to play croquet.'
Then they both bowed low, and their curls got entangled together.
--Chapter 6, Alice's Adventures in Wonderland
Just like the Queen's letter to the Duchess, our challenge this month is to create something with a postal theme - stamps, postcards, letters, envelopes; however you choose to interpret that.
As always, all entries that meet the challenge theme are accepted but Wonderland entries are encouraged (they get two chances instead of one in the prize drawing).
Friday, June 22 is the last day to enter this month's challenge.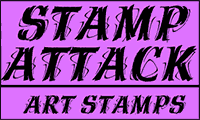 Our sponsor is
Stamp Attack
, a British company that is well known (among other things) for their
fantastic Alice stamp plates
which have sold to customers all over the world.
In fact, Helena Bonham Carter, the actress who played the Red Queen in the Tim Burton Alice movie, purchased sets of Alice stamps from Stamp Attack, which were then delivered to the studio! Enabler alert: Stamp Attack offers speedy worldwide shipping for only £1 on unmounted stamp orders, so go on and check out their beautiful stamps!
The winner will receive a Stamp Attack gift certificate for £13.50, which is equivalent to one of the Alice stamp plates! We will be showing off
two new offerings from Stamp Attack
:
Alice Faux Postage
and
Mouse's Tail
, aren't they great?
My inspiration for this Challenge:
Alice opens the box and memories of Wonderland start flooding back.
Inside she found postcards sent to her by her friends in Wonderland.
There was a bracelet with shrink plastic charms of Wonderland postage.
And there was a book which held the tale of the Mouse tail. Alice wept a tear of happiness as she remembered the wonderful times she had in Wonderland.
All of the stamps used in the different projects (except the book cover) are from Stamp Attack. When I saw the new stamp releases, my imagination took over. I hope you enjoy the projects and the fantasy that went with them. I hope you will join in the fun and add your piece to
The Altered Alice challenge.