The Hatter was the first to break the silence. `What day of the month is it?' he said, turning to Alice: he had taken his watch out of his pocket, and was looking at it uneasily, shaking it every now and then, and holding it to his ear. Alice considered a little, and then said `The fourth.' `Two days wrong!' sighed the Hatter. `I told you butter wouldn't suit the works!' he added looking angrily at the March Hare. `It was the BEST butter,' the March Hare meekly replied. `Yes, but some crumbs must have got in as well,' the Hatter grumbled: `you shouldn't have put it in with the bread-knife.' The March Hare took the watch and looked at it gloomily: then he dipped it into his cup of tea, and looked at it again: but he could think of nothing better to say than his first remark, `It was the BEST butter, you know.' -- Chapter 7, Alice's Adventures in Wonderland
The term "Mad as a hare' which was common during Carroll's time, alludes to the crazy capers of the male hare during March, its rutting season, and the straw on his head in the original Tenniel illustrations was also a symbol of madness. (
from Lenny's Alice in Wonderland site
)
As March is the month we celebrate the mad March Hare, ANYTHING GOES is the challenge at The Altered Alice.
You have until Friday, March 29 to enter your creations. As always, multiple entries are allowed but each must be on a separate post. All entries are welcome, but those that feature Wonderland will have two chances at the prize instead of one. And what a prize it is! A $30 gift certificate for digital images from the fabulous, fantastical world of The Octopode Factory!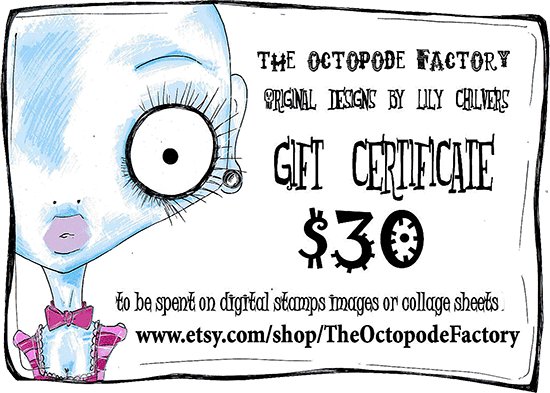 The talented Lily Chilvers started The Octopode Factory when she was only seventeen and they were an instant hit.
Originally available only in digital form, they are now also available in rubber stamps, and she has a wealth of amazing
Alice in Wonderland
images. Be sure to check out these wacky images through the links above!
My inspiration today was a lot of fun to make and even more fun to play with. It's a Jacob's Ladder which features lots of digital images from Octopode. (You can find a tutorial on YouTube by Tricia Morris of Club Scrap for the Jacob's ladder.)
Grandson Joshua playing with Jacob's ladder.
Front
Here are the various panels in the project.
I hope you will add your art to the challenge. It's always fun to see what everyone creates. Remember, the challenge is anything goes.