Alice sighed wearily. `I think you might do something better with the time,' she said, `
than waste it in asking riddles that have no answers.'
`If you knew Time as well as I do,' said the Hatter, `you wouldn't talk about wasting IT. It's HIM.'
`I don't know what you mean,' said Alice.
`Of course you don't!' the Hatter said, tossing his head contemptuously. `I dare say you never even spoke to Time!'
`Perhaps not,' Alice cautiously replied: `but I know I have to beat time when I learn music.'
`Ah! that accounts for it,' said the Hatter. `He won't stand beating.'
-- Chapter 7, Alice's Adventures in Wonderland
Time marches on and it's time for a new challege, and the challenge is to make something that represents TIME! Take your time, you have until May 27 at 8 p.m. Eastern Daylight Time (GMT -4:00) to show us YOUR timely creation! There are so many ways to represent time - you could use a clock or a watch, hourglass, calendar. . . take some TIME to think about it and then be sure you submit on TIME because TIME flies! Ok, I think I have it out of my system. . . or is that my clockworks?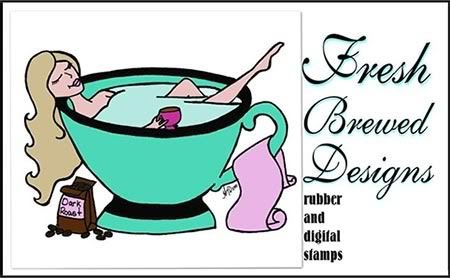 Our sponsor this month is Fresh Brewed Designs, and they have some fabulous Alice in Wonderland digi images that some of the design team will be using. The randomly chosen winner of this month's challenge will receive five digi stamps of their choice from the Fresh Brewed Designs store!
While it is not required that you use Alice in Wonderland images, we do encourage it. Entries that feature some aspect of Wonderland will be entered twice for the prize drawing! Be sure to add your art to the linky on
the Altered Alice
site. And check out what the other designers have created.
Three guest designers will be joining us for May: Jess Marin of
My Scrap Diary
will be sharing her project in our Week 3 post, and Retta Fox of
Foxy's Weblog
and Tracy (CuddlyBunny) of
Not a Moment to Spare
will be sharing their creations during our Week 4 inspiration post. I know you will enjoy seeing the work of these talented designers, some of whom you will recognize as past entrants to our challenges!
This is the project I created for the challenge.
I enjoyed making this project. I thought that a framed wall hanging would be fun to create. I started with the background. I used glossy cardstock and used the canned air/alcohol inks technique for the color. I then printed the
tick tock clock background
on the sheet. I actually was able to heat emboss the image since the printer ink stayed wet long enough to emboss.
Next I printed Hatter Madness, colored him using the watercolor marker technique and framed him using the weathered clock die cut from the Tim Holtz line cut from grungeboard and painted with the black paint dabber. The tea bag is made from folded vellum which has the Drink Me image printed on it. (Unfortunately the image didn't photograph clearly because of the vellum.) The sentiment label on the corner is a stamp from Tweety Jill Designs. It also is colored using the Watercolor Marker technique. It was adhered to a label made from a Spellbinder's die.
The frame was an old one I had in my stash. I covered it with gesso, and then sprayed it with espresso and denim color wash. I love how it turned out.
I'm looking forward to seeing what you create.