Before I launch into this month's challenge, I have a few messages for the Alice lovers out there. First, the White Rabbit sends his greetings. We had a lovely visit while I was in Orlando last week.
TheMad Hatter also sends his love. My grandson and I had a rollicking time at the Mad Hatter's tea party...just in time for our challenge this month.
Now for this month's challenge.
The Hatter shook his head mournfully. `Not I!' he replied. `We quarrelled last March--just before HE went mad, you know--' (pointing with his tea spoon at the March Hare,)
`--it was at the great concert given by the Queen of Hearts, and I had to sing
"Twinkle, twinkle, little bat!
How I wonder what you're at!"
You know the song, perhaps?'
`I've heard something like it,' said Alice.
`It goes on, you know,' the Hatter continued, `in this way:--
"Up above the world you fly,
Like a tea-tray in the sky.
-- Chapter 7, Alice's Adventures in Wonderland
Here at The Altered Alice we celebrate Mad Hatter's Day twice a year as the date is taken from the price on his hat - ten shillings and a sixpence or 10/6. That means it is on October 6 here in the United States, and on June 10 in the United Kingdom. But mainly it is just a great reason to party with the Mad Hatter twice a year! Your challenge is to celebrate the Mad Hatter, and as OPTIONS you can use something that twinkles or shines AND/OR you can bring some spookiness into it since we are all having a "Twinkle twinkle little bat" sing-along around our mad tea table!
Our prize this month is an A5 sized unmounted stamp set from IndigoBlu (a £13 value), or an equivalent amount of A6 stamps
. IndigoBlu is a fantastic new British stamp company that makes "Quintessentially English Rubber Stamps" right there in England.
In fact
IndigoBlu
is sponsoring The Altered Alice for October AND November, and the design team will be working with these
two fantastic Alice stamp sets
, titled appropriately "Alice I" and "Alice II". Most Americans don't know what A5 and A6 mean so I'll just tell you, these sets are huge!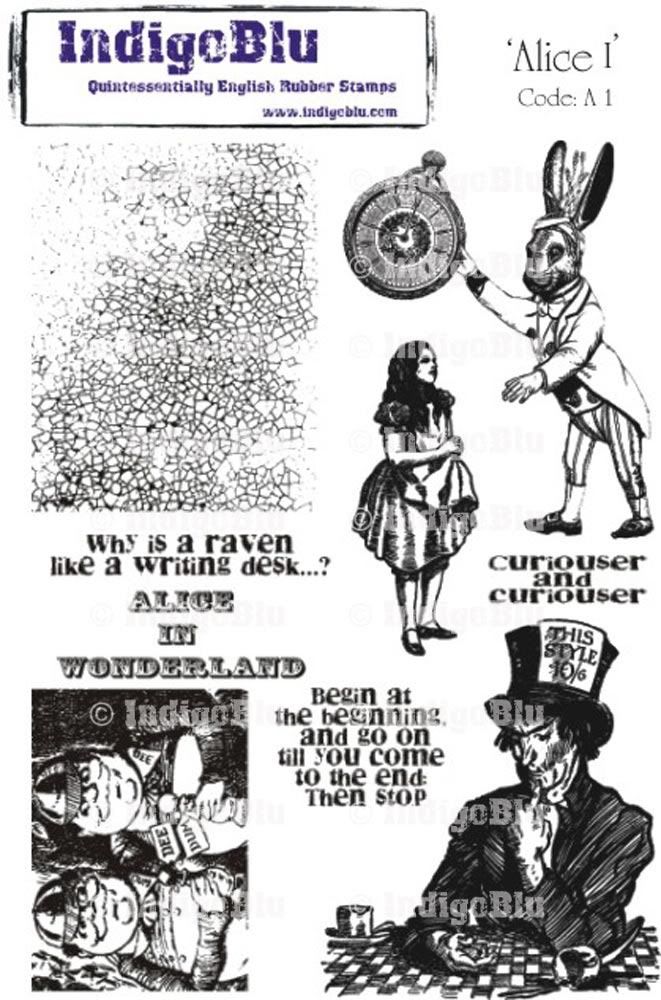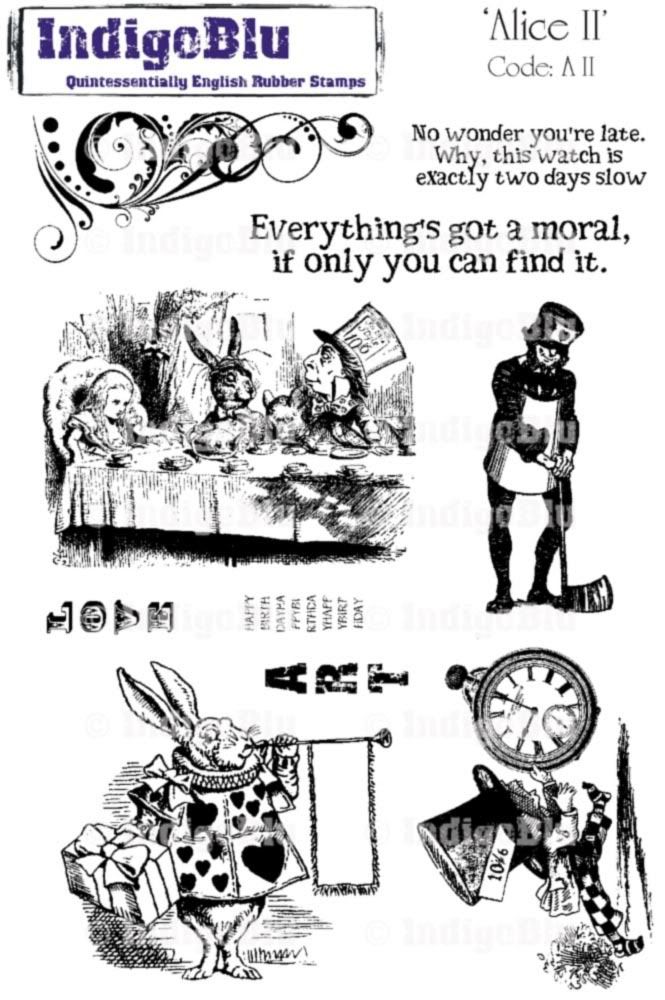 I encourage you to go visit
IndigoBlu.com
. All stamps are on sale right now with their introductory pricing, but that won't last forever, and the designs are all wonderful! In addition, the Head Honcho Alfie says
"The Altered Alice readers can take 10% OFF during the challenge; just use coupon code

AlteredAlice

in the voucher code box at checkout!"
Thanks Alfie!
Enter by Friday, October 28; our randomly drawn winner and the honorable mentions will be announced on the last Sunday, October 30. Multiple entries are encouraged, but each must be on a separate post. As always, entries that feature Wonderland in some way will get two chances in the drawing instead of one.
Now for my challenge piece(s).
To celebrate Mad Hatter Day, USA, I created an easel card with a drawer. As the Mad Hatter sits at his table contemplating his watch, a bat hovers over his shoulder. The background was made using a texture fade. I highlighted the rays first with the new seasonal release distress ink ripe persimmon. Isn't it a yummy Halloween color? I then added orange marmalade stickles to add some twinkle. The card sits on a box with a drawer. The box is covered with Graphics45 paper from the Halloween in Wonderland pad. I used the purple with the Hatter's hats. Again a little Halloween color. The moon and star on some of the hats were colored with a sparkle gel pen for more twinkle.
I wanted to put something inside the drawer, and I considered candy. However, the drawer wouldn't hold enough candy and candy isn't too arty. So I decided to make domino pins instead featuring some of the stamps from the IndigoBlu stamp sets,
Aren't they darling? In keeping with the "twinkle" theme, I used Creative Inspirations Paints to color the dominoes. Believe me, they really shimmer.
Hope everyone had a wonderful Mad Hatter's Day!